You can use accessories to brighten up an outfit, make a statement or sum up your personality. SheKnows has 10 bold accessories guaranteed to make you smile.
Just for bubs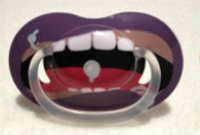 Guaranteed to get a giggle, these dummies from Crazy Creatures are the perfect accessory for bubs. Dummies come in a range of bold designs like Big Teethy Grin, Scream Dummy, Punk Rocker, Clown and Crocodile. All dummies meet strict Australian standards, are BPA and DEHP-free and come in three sizes -- newborn, 6-12 months and 12 months plus (crazycreaturesdesigns.com.au, $9). There is also a range of outrageous bibs with designs such as Mr Buff Body, Tarzan and Diamond Bikini (crazycreaturedesigns.com.au, $10).
Calling all Star Wars fanatics
The Chewbacca Back Buddy is a fun and unique way to carry and store your belongings -- he's both squeezable and collectible (mightyape.com.au, $44). Take home this useful little Wookie today.
Dress up your dog
Just when you thought you'd seen everything. These are the coolest accessories for your pampered pooch. With silver rims and dark smoke-coloured lenses, K9 Optix are designed for "fashion and fun" yet still provide 100 per cent UV protection and shatterproof lenses. The unique three-strap system is fully adjustable and they come with wide nose bridges for a comfortable fit. They are available in sizes XS to XL (pinkpawz.com, $18).
Get angry
Keep your head toasty warm with the Angry Birds Dumb Green Pig Laplander hat. These awesome laplander hats are convenient and cool. Each hat is shaped after one of the characters from the Angry Birds phone apps and cartoons. They're absolutely perfect. They should be available in Australia from the end of October. They can be pre-ordered from mightyape.com.au.
Go topless
With Topless Sandals, you'll have no blisters from straps, no tan lines, just totally cool feet. They stick to your feet using a clever water-based adhesive.
Vampire eyes
Get Twilight: Breaking Dawn contacts (immoralfashion.com.au, $40). Now you have eyes just like the Cullens.
Gothic jewellery
In keeping with the vampire theme, Alchemy Gothic creates quality gothic jewellery.
A soft, velvet band choker with Swarovski crystal bite marks and cascading "blood drops" will suit nicely (immoralfashion.com.au, $69).
Here, kitty kitty
"Soft kitty, warm kitty, little ball of fur. Happy kitty, sleepy kitty, purr, purr, purr." The Big Bang Theory Soft Kitty Socks are available from the end of October (mightyape.com.au, $15).
Close your heart
Keep both Edward Cullen and Jacob Black close to your heart with this Twilight: Breaking Dawn locket necklace (mightyape.com.au, $31).
Stay on time
Stay on time and on-trend with these bold watches from gloss accessories (glossaccessories.com.au, $10).
More ways to make you smile
5-Minute indulgences for hectic mornings
Fun ways to treat every day like Friday
6 Fun outdoor volunteer activities