When you are constantly on the go from sunup to sundown, it's easy to let healthy eating habits slide. But when your stomach grumbles, don't let the vending machine call your name. With a little planning and preparation, you can maintain healthy eating habits with even the most hectic schedule. Here's how.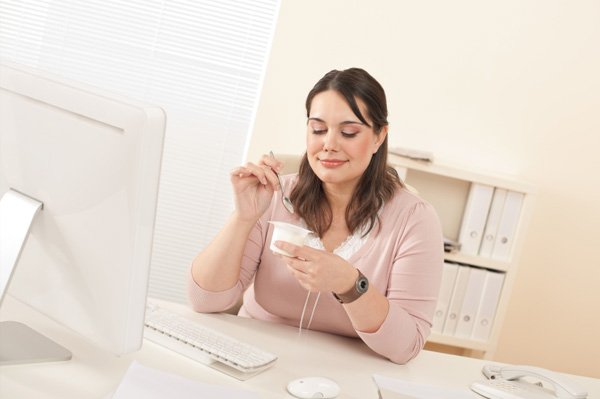 Stock your fridge
Healthy eating starts with healthy shopping. Load up your cart with fresh fruits and veggies, low-fat sliced deli meats, low-fat cheeses, natural nut butters, hummus, canned tuna and chicken, high-fiber whole grain crackers and wraps, whole wheat pretzels, Greek yogurt, cottage cheese, whole grains, lean meats, fish, nuts and seeds. When you get home, take time to cut up veggies and store them in individually portioned plastic containers that you can easily grab and go. Put a dollop of almond butter, hummus, cottage cheese, guacamole or salsa into small containers for easy dipping sauces. Wash your fruit and place it in a large fruit bowl for convenient snacking. You can also portion out servings of healthy non-perishable snacks like crackers, pretzels and trail mix so they are ready to grab at a moment's notice.
Go bento
Each night before you go to bed, plan out your menus for the next day. It's so much easier to choose healthy options when they come from your own kitchen. A stylish, eco-friendly bento box is a great way to transport a healthy packed lunch. With a variety of different size containers at your disposal, you can pack a host of healthy foods like salads, soups, whole grain wraps, grilled veggies, cut-up fruit and yogurt.
Stash a snack
Don't be caught empty handed when you hit that 3 o'clock slump. Make sure to stash wholesome snacks packed with fiber and protein in your purse, car, desk or wherever you spend your time. You'll be much less tempted to dash through a drive-thru or storm the vending machine if you have something healthy and yummy on hand. In a pinch, even gas stations have healthy snacking options like fresh whole fruit, packaged nuts, boiled eggs and string cheese.
Don't leave the house on an empty stomach
With a big day ahead of you, make sure you've eaten a healthy meal before you leave the house. Swinging by Mickey D's for a quick bite won't even come to mind when you've started your day all tanked-up on healthy goodness. Even a simple breakfast smoothie is a great option to gulp down before you dash out of the door.
Choose healthy restaurants
If you have to eat out, try to choose restaurants that have nutritious meals on their menus. Sandwich shops and delis like Panera, Jason's Deli and Subway are always excellent options because you can tank up on wholesome salads, whole grain wraps, nutrient-rich soups and healthy sandwiches.
No matter where you end up, you can still make healthy choices. Always opt for fish or chicken that is grilled, not fried. Ask for dressings on the side so you can control how much you use and skip the bread and chips. When given an option, always pick fiber-rich whole grains over processed ones. Do your best to avoid white flour, white rice, white pasta and white potatoes because they quickly turn to sugar in your bloodstream. Lots of restaurants will happily substitute steamed veggies in place of french fries. Make sure to drink plenty of water or healthy juices with your meal and avoid sugary sodas which are full of empty calories and will just send your blood sugar on an uncomfortable roller coaster ride.
More on healthy eating
Healthy foods that boost happiness
Top 10 healthiest vegetables
10 Tips for healthy eating