Whether you are trying to lose weight, boost your energy or simply eat healthy, a high-protein diet is the name of the game. We've got the tastiest protein-packed lunches to jump-start your afternoon and keep your metabolism bumping all day long.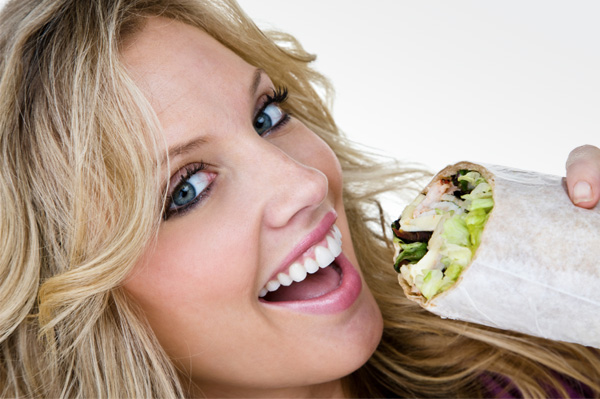 Wrap it up
While sandwiches can be a great option for packing in protein-rich ingredients like smoked salmon, tuna, grilled chicken, lean pork and more, whole-grain wraps are even better because they are even lower in calories and carbs. At just 60-70 calories per serving, you can get a healthy dose of fiber while you enjoy all your favorites. Try a buffalo chicken wrap with butter lettuce, diced carrots and celery; an Asian salmon wrap with julienned daikon radish, green onions, soy sauce, ginger and sesame seeds; a Greek hummus wrap with cucumbers, sprouts and tomato; or a spicy tuna wrap with avocado, carrot, scallions, brown rice, wasabi and spicy Sriracha sauce.
Get hooked on fish
The benefits of fish go far beyond their protein content. An essential source of omega-3 fats and antioxidants, eating fish protects us from chronic diseases, boosts heart health and keeps our bodies strong. But for those of us on a high-protein kick, the good news just keeps on coming. One of the most protein-rich foods, fish is an ideal addition to your daily diet. Eat it grilled, broiled or fried, toss it in soup, mix it in a salad, layer it on a sandwich or a wrap. Halibut, mackerel, sardines, tuna, tilapia, salmon… it's a cinch to get hooked on fish!
Go Paleo
For meat lovers, a high-protein diet is a breeze. Go Paleo and satisfy yourself at lunchtime with a roasted chicken breast, pork chops, seared salmon, Mexican fajitas or a juicy steak. When paired with a healthy fresh salad, this is the perfect, filling lunchtime treat.
Get friendly with beans
If you're not familiar with beans, now is the time to make a new friend. Beans are a great way to supercharge your protein-rich diet. For lunch, consider making a pot of tasty veggie chili, whipping up a bean burrito, frying a black bean burger or enjoying a plate of falafel and hummus. You can sneak beans into lots of recipes. Add them to soups and stews, sprinkle them over salads, mix them with pasta or serve with pilaf.
Be cheesy
Hard cheeses like Parmesan have the highest amount of protein while softer cheeses like Swiss, Muenster and Colby-Jack are still an excellent protein source at six to eight grams per serving. You can add a cheesy protein boost to almost any healthy lunch by adding a slice of cheese to your wrap or sandwich, sprinkling grated or crumbled cheeses into your salad or soup or simply ending your meal with a hunk of your favorite cheese. Did you know that ending a meal with a lump of cheese is also a great way to clean your teeth?
Swap it out
Some simple substitutions in your diet can give your meals a huge protein kick. Greek yogurt trumps regular yogurt in protein content and has additional health benefits as well. Cottage cheese is very high in protein and can replace sour cream or ricotta in lots of recipes. Swap out your white rice for quinoa, which is a complete protein and a great source of dietary fiber too. If you are hungry for carbs at lunchtime, skip the empty calories in white bread, white potatoes and white rice and choose foods that are high in protein as well like multigrain pasta, brown rice, couscous, chickpeas, lentils, black beans, edamame, almonds, hazelnuts, pistachios and sunflower seeds.
More on a high-protein diet
3 Protein-rich salad recipes for lunch
Does your family get enough protein?
22 Healthy high-protein snacks