Sandwiches tend to be the go-to lunch when we're in a time crunch, but sandwiches can get old quickly, and they aren't always the most nutritious option. Try a sandwich alternative! These five lunches take less than five minutes to prepare, but each one packs a nutritious punch.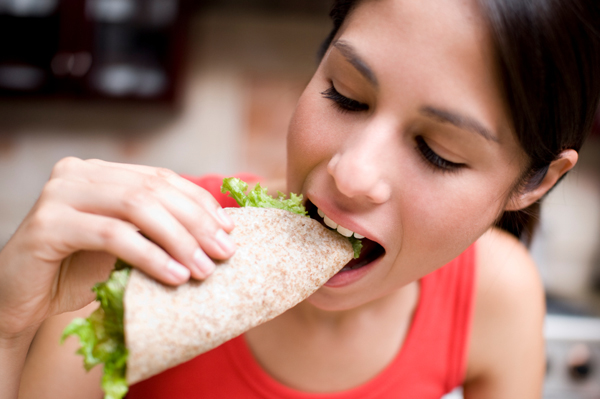 Roast beef rollup
In a spinach or whole wheat wrap, layer slices of roast beef with cheese, lettuce and tomato. To keep it a low-calorie lunch, skip the mayo and use hot sauce or mustard instead. Roll up the wrap, tucking the bottom in so that your rollup fillings don't fall out as you eat on the go.
Salad wrap
An easy way to get a big serving of vegetables is with a salad wrap. Line a spinach or whole wheat wrap with large pieces of lettuce or spinach. Pile on shredded carrots, cucumbers, peppers and diced tomatoes. This lunch is a great way to use up leftovers, too. Anything can be a good addition to this wrap: olives, onion, beets or whatever odds and ends you have. Finally, top with salt and pepper and either olive oil or mustard. To keep the wrap from bursting, be careful not to overload it.
Tuna salad
Pick up StarKist® Ready-Made Tuna Salad Lunch To-Go Chunk Light for a fast, healthy lunch. You won't have to rush to prepare the tuna salad either. The package comes with everything you need -- tuna, crackers, a spoon and even a mint for a fast, nutritious lunch.
Microwavable soup
Pick up a pre-made soup in a microwavable container as a fast alternative for a healthy soup lunch. If you already have a pantry stocked with soups in cans, simply pour the soup into a microwave-safe dish, add the right amount of water, and heat when you have a spare two minutes. While homemade soup can be hearty and delicious, it's also time-consuming. However, if you have the time, pull together a large pot of vegetable soup. Divide it between single-serving size microwavable containers. Then, just pop them in the freezer so you can grab and go when needed.
Veggies and hummus
Slice your favorite veggies into bite-sized portions. Pack them in sandwich bags or reusable food storage containers along with a container of hummus. Hummus contains protein to help you feel full longer, and the veggies will give you a great dose of your daily fiber. Bonus: If you're on a gluten-free diet, several hummus brands are available in gluten-free versions.
More on healthy eating
Healthy foods that boost happiness
Top 10 healthiest vegetables
10 Tips for healthy eating