Some days just don't allow for a sit-down lunch. When you're busy, a healthy lunch is often the first thing cut from your day. But it doesn't have to be! Try one of these six portable and nutritious lunches on the days when you just can't find the time to eat.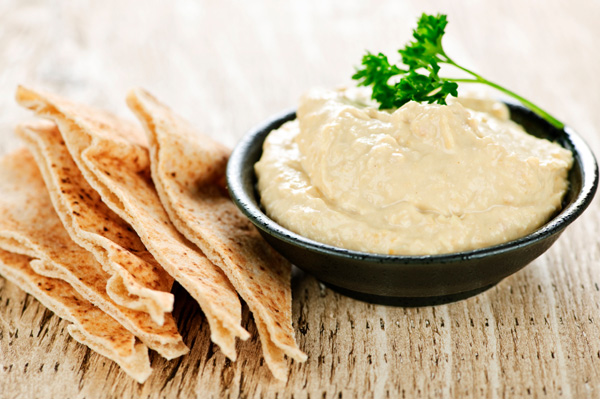 Container salad
A veggie and protein-packed salad is an ideal lunch, but sitting down with your fork and knife to enjoy a big salad isn't always possible. Instead, pack a container salad. In small food storage containers, stash carrots, sliced peppers, cubes of cheese or cooked chicken and any other veggies you prefer. If you don't have the time to sit and eat it all at once, grab one small container at a time to munch on in the car or on a conference call.
PB pita
Pack a sandwich alternative in a whole wheat pita. Without an opening on the bottom, the contents are less likely to spill out onto your pants. Load the pita with peanut butter and jam. If you're aiming to increase your daily intake of fruit, skip the jam and pile fresh berries in the pita and lightly mash them with a fork.
Sippable soup
Soup is tough to eat on the go -- unless you make it drinkable. You have two options: First, if you won't have access to a microwave, heat the soup in the morning and pour it into a heat-safe thermos, and then stow it until you're ready to sip. Second, if you have access to a microwave, pour a can of soup into a microwave-safe container. Pack it along with a heat-safe water bottle. Microwave the soup, and then pour it into your bottle to drink on the go.
Burrito
This portable lunch is best prepared in advance. Cook rice and chop up whatever veggies you have -- tomatoes, onions, olives, whatever you have in your fridge will work. Pile the ingredients on soft taco shells. The trick to making this portable is not to overload the burrito shells. When you're finished, roll them up, wrap the burritos in foil and stash them in your freezer. Pull one out any time you need a quick lunch. Remove the foil and microwave for two to three minutes.
Chip-and-dip
In a pinch, chips with a protein-packed dip make a good, fast lunch. Hummus or bean dips provide the protein, and veggies like sliced peppers can replace the chips if you have time to chop them. Otherwise, choose thick pita chips, which are perfect for scooping.
Wrap
Sandwiches get old. Skip the tired standby and make a travel-friendly wrap instead. Make it vegetarian with shredded carrots, spinach and cheese, or pile on your favorite lunch meat for an easy-to-grab meal.
More on healthy eating
Healthy eating tips to lose weight and get in shape
Tasty protein-rich salad recipes
The ABCs of eco-friendly eating