The everyday woman doesn't need a complete makeover -- she just needs a few small changes that actually make a difference.
Shape your brows.
To open up your eyes and make your face look refreshed, shape your brows. Reema Khan, founder and president of s.h.a.p.e.s Brow Bar, offers these tried-and-true tips to determine the right arch for your face:
The inner edge of the eyebrow should start directly above the outer edge of the nostril. To determine the direct line, hold your eyebrow brush, brow pencil or anything straight vertically alongside your nose, straight up to the brow.
To see where your brow should end, hold your pencil diagonally from the middle of your nostril to the outer corner of your eye.
To figure out the highest point of your arch, place your straight object from the outside of your nose to the outside of your pupil, unless you have a very strong natural arch.
Restore your glow.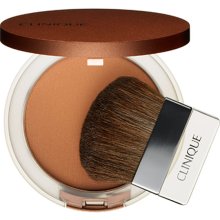 "Start by hiding any blemishes and other flaws," says makeup artist Staci Lefleck. "Use a tiny brush to apply your cream concealer and then blend, blend, blend. Don't use concealer more than a shade lighter or darker than your natural complexion."
"If your skin needs a little more help, apply a light, water-based foundation," Lefleck continues. "Dot it onto your skin with your fingertips and blend thoroughly with a triangular makeup sponge. Pay special attention to the areas around your nose and mouth."
If you skin still looks a little sallow, Lefleck recommends bronzer -- but use a light touch. "A little goes a long way. You don't want to look too orange or too dark. You just want to look like you got a little sun over the weekend. Apply bronzer with a big fluffy brush and start with very little, then build the color if you need it."
Go from plain to posh.
If you always wear your hair the same way, go from plain to posh with a sleek and sexy ponytail. Celebrity stylist Paul Labrecque offers these tips to get the look:
Blow dry your hair with Paul Labrecque Volume Style Root Lifting Spray.
Once the hair is dry, tease the front of it and smooth back into a tight ponytail, leaving the front as high as you would like (not the Snooki poof).
Wrap one section of the ponytail around its base to hide any band or ponytail holder. Finish with an all-over spritz of holding mist.